The Safety net fans are the latest innovation in high-rise protection, ideally suited to compact, inner-city locations where space is limited and the protection of people and property from potential hazards is essential.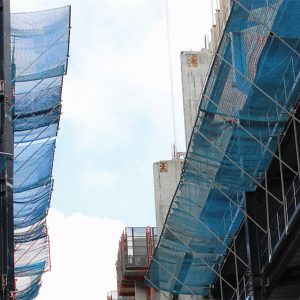 The Safety Net Fan catches and securely contains falling objects, protecting property, the public and site workers, at the same time protecting your business from possible litigation should an incident occur.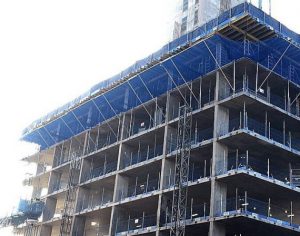 The Safety Net Fan is designed to fit directly to the building (steel or concrete frame) or to scaffolding using a range of purpose built attachments. The 3.3m wide standard fan, the m4.6m wide Maxi Fan and the 3.3m wide corner options, ensure that the Safety Net Fan is suitable for almost every design of building including those with overhangs.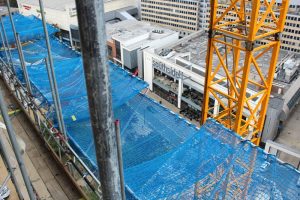 A Safety net fans give much-more time to a falling object to come into zero velocity than hard ground. In physical terms, this means more time for deceleration and kinetic energy transfer, resulting in a softer landing and much lower risk of damage.
What kind of net to be used, depends upon many factors[citation needed], (such as the factors that could determine the force of the impact) such as falling objects' speed and mass. To encounter more force, a more total width of the net, is required. The minimum-distance of the spot on the net at which object impacted, and the edge of net (nearest-edge), matters, and to be kept more than certain limit. There is role of materials[citation needed] used to make the ropes of net (such as an iron rod grid will not work as good as flexible and extensible ropes), and the tension or stretch used to make the net (stored in the ropes), also have some roles[citation needed]. The net is to be set at an appropriate height from the hard ground, so that the object, along with the rope, does not clash with the hard ground[citation needed]. The mesh hole size should-not be so big that falling object/people/part of it could pass through the holes.
We will be more than happy to answer any questions about this product you might have.