The reason why choose cat tunnel
What is a cat tunnel?
A cat tunnel is actually just what it sounds like, it's a tunnel made from specific materials that is large enough for a cat to pass through. These tunnels can be used for playing or simply to get from inside your house to more tunnels set up in the garden or to a backyard cat enclosure.
Here's a great way to attach your Enclosure to your home even if you can't put it directly against the wall. The cat Tunnel is a "catwalk" that allows you to place your Enclosure away from the house and still connect it to a door or window. The tunnel sizes is 960mm(l) x 360mm(w) x 360mm(h). Custom sizes are available.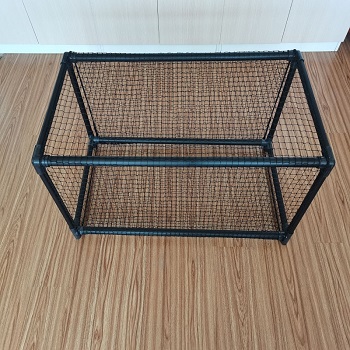 Specification
Material:High Density Polyethylene
Color:Black
Others:Custom nets and accessories are available.
Durable polyester flooring
Durable powder-coated steel frame
Super strong steel corner connectors
Unobtrusive netting / thin net twine
Pre-Stretched – will not sag or stretch over time
19mm x 19mm Mesh Size
Knotted High Density Polyethylene material
Heat strengthened knots
Will not frey or unravel when cut to size
UV Treated
Why does my cat need an outdoor cat tunnel?
Traffic:The possibility of getting hit by a motor vehicle.
Contamination:Poisoning due to pesticides, toxic plants, contaminated puddles etc.
Other Animals:Being attacked by free roaming cats, dogs, coyotes or overhead predators.
Neighbourhood Threats:Unhappy neighbours threatening them, or you!
Human Threats:Encountering people who dislike our furry felines, and falling victim to them.
Capture:Getting accidentally locked in someone's shed, garage, or just outright stolen.
Unsafe:The possibility of a shorter life span goes up when cats are left to roam wild.
Impact on Nature:Roaming cats can pose a danger to our wild bird population.​​
7 Reasons to build outdoor cat tunnels
You have space in your backyard such as a lawn or patio to erect a cat tunnel.
You would like to increase your cat's space to explore a little evening bug hunting.
It's a simple way to increase territory or 'home range' without having to build a catio.
It's a simple removable structure that gives your cat safe access to the outdoors.
Ground tunnels provide the perfect alternative to a catio if your city prohibits building any sort of elevated permanent structure.
Being on the ground, the cat tunnel is out of sight and is well hidden from nosey neighbors and passersby.
Ground cat tunnels can be integrated within your herb garden where you can plant catnip and other cat safe plants in pots, an added bonus for your cats to enjoy!
Cat Tunnels benefit
Peace of mind knowing where your fur baby is at all times.
Allow your cat to safely enjoy time outside in the sun shine.
Protect your cat from dangerous cars and traffic.
Keep your cat away from predators and fights with other animals including dogs and foxes.
Helps an anxious cat feel relaxed outdoors without worrying about threats.
Protect native birds and wildlife from your hungry kitty.
Lessen the risk of your cat being exposed to harmful fleas and ticks, saving money on vet bills.
People with cat allergies can keep their pet outside in an enclosure to minimise cat hair and therefore their reaction in their home.
Keeps your home free from any toilet accidents if your cat experiences incontinence or sprays to mark its territory.
Cat Tunnels are designed to ensure safe access from your house to an outdoor cat enclosure area. Cat Tunnels are ideal for customers whose stand independently from their house, where access is restricted or where garden plots are isolated from the house. They are used by domestic, commercial and charitable organisations who care for cats and require safe outdoor access. Cat tunnels offer an enhanced territorial space for cats so that they can enjoy the benefits of outdoors.
Many cats that live exclusively indoors find themselves bored and lacking the mental stimulation that can deter unwanted behaviors such as urinating in the house, using the furniture as scratching posts, and fighting with other pets in the home. Access to the outdoors can help alleviate many of these issues as it allows them to express themselves more naturally outside of the home so that they can rest easier indoors.