Safety nets in New Zealand
MENTION safety nets to people and they immediately think of the large nets strung under flying trapeze acts at the circus. However, safety nets also have their industrial uses.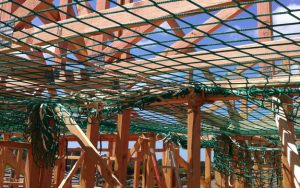 On New Zealand's construction sites safety nets are expected to become an increasingly common sight over the next few years as they address the safety concerns of workers working at height, along with the concerns of the Department of Labour, Health and Safety (formerly OSH). Nobody knows this better than Craig Daly, general manager of Safety Nets NZ, who originally hails from the UK, where safety netting has long been the preferred method of fall protection. Safety Nets NZ was established to ramp up the awareness of safety nets as a means to ensure the safety of site personnel working at height in this country. The company has imported a specialist rigger from the UK and in recent months has been busy ensuring that the whole operation is fully certified and satisfies all safety requirements.
In the absence of any Australasian standards, full compliance with British and European standards are required. All nets comply with EN1263:1 and are used in accordance with BSI 8411:2007 Code of Practice for the Use of Safety Nets on Construction Works. The company already has one major project under its belt – safety nets were successfully deployed during the construction of Foodstuff's new cool store in Wiri. Daly says, "while up-front costs were slightly higher, our client found that significant savings and economies were quickly made through reduced plant hire and labour costs associated with speedier and more efficient construction and methods. A traditional fall-arrest harness system attached to the steelwork only slows down the whole building process. Our system is much speedier." Daly says safety nets are well suited to large steel portal frame structures, and for buildings that require insulated sandwich panel roofing, such as cool stores. There are many other potential uses too. A local construction firm wants to use the nets to close off the lift shaft as it completes each floor. "In the UK the nets are deployed on the majority of multi-storey or warehouse construction sites, with the UK Health and Safety Executive identifying the nets as its preferred method of fall arrest on construction sites. We also envisage their use for major maintenance jobs on, for example, overbridges or viaducts. Essentially safety nets have used for wherever workers can potentially fall on a building site."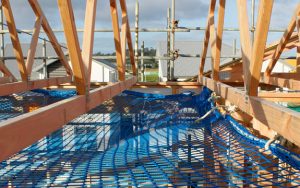 The advantages of safety nets include:
Reduce potential falls and minimises effects.
Provide collective passive safety.
Nets are fitted as close as possible to the working level.
They allow a wide range of activity to continue working with minimum restriction.
Allow greater mobility for people working above the nets.
Reduced crane times and costs.
Speedier and more efficient construction methods. Daly says the response to the nets so far in New Zealand have all been positive and they have been working very closely with the Department of Labour regarding training and inspections. "We're opening people's eyes to another safety at height solution. And let's not forget that at the end of the day, these nets save people's lives."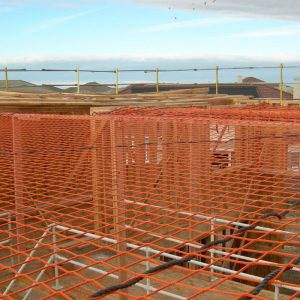 Contact us to get the safety nets which comply with BS EN 1263-1.