Standard Bird Netting
This tough bird netting seals off all structural openings and other possible roosting sites. Lightweight, pliable, UV stabilized bird netting won't deteriorate with age or lose strength when exposed to the elements. Standard mesh is 3/4″. Structual mesh is 1/2″.
Prevent birds from roosting and nesting in undesirable areas or from eating fruit or crops with bird netting.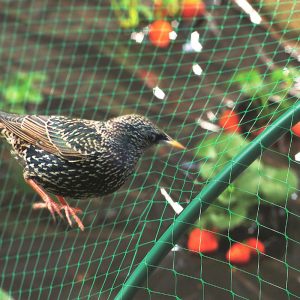 Bird Netting Features
– Most Effective: Physical barriers like neeting are the most effective way to keep birds away
– Easy Installation: Straightforward, one-time installations
– Lasts for decades: Durable and weatherproof
– Nearly invisible: Netting is barely visible at a distance
– Works on Other Animals: repels anything from birds to groundhog to deer.
– Louvers, Eaves
– Air Conditioners
– Windowsills
– Ledges, Sills
– Gutters, and Pipes
– Beams, Trusses,
– Support Structures
– Roofs
– Perimeters, Chimneys
– Cables, Awnings
– Projections
– Statues, Columns, Cornices
– Signs, Letters
– Steeples
– Bell Towers or Domes
– Trees – for roosting birds
– Signage, Billboards
– Also Stops Climbing Animals
Use Netting to Keep Birds Off:
Reduced Damages & Repairs
– Saves insulation, siding, and roofs from replacement or repair
– Increases property aesthetics and value
– Decreases aesthetic and materials damage to propery.
– Eliminates destructive, corrosive droppings
– Eliminates costly repairs
Reduces Risk
– Eliminating pest birds with netting reduces health and liability risks
– Insure yourself against potential lawsuits and legal liabilities
– Reduce workman's compensation claims
– No FDA and OHSA inspection failures
– Prevent Health Department citations and fines.
– Eradicate over 60 potential bird-related diseases: Avian Flu, West Nile, Histoplasmosis, Salmonella,E. Coli, and more