Lantern nets are made up of 11 synthetic mesh-covered metal hoops tied together with four ropes to form 10 chambers where the oysters grow. The ropes are tied to form a loop about 18 inches above the top chamber and a simple knot about the same distance from the bottom tier.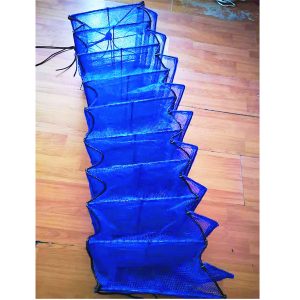 The chambers are 20 inches across and are spaced about seven inches apart. When a tag line is attached to the top loop to hang the gear from a longline, the net occupies about 12 feet of the water column.
The inside of the chambers are accessed through a "door" running the length of the gear. The nets are laced closed by threading a thin plastic line through the mesh. Lantern nets with extra mesh by the doors are much easier to lace than nets in which the webbing must be pulled together. The latter nets are even more time consuming to tend.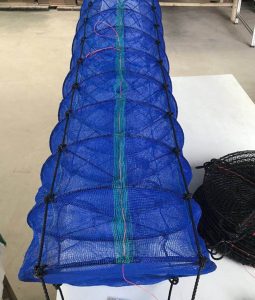 The mesh on lantern nets comes in a wide range of sizes. It is important to use the right mesh size for your crop as spat placed in nets with too large a mesh size will grow into the mesh and are difficult to get out without killing a lot of shellfish.
The most common choice of mesh size for spat nets is 7.5 mm. These nets can accommodate spat as small as 15 mm, but 20 mm and larger spat work better. This small mesh size fouls easily, contributing to less water flow through the nets and, consequently, less phytoplankton for the oysters to eat. While it is important to increase mesh size as the shellfish grow larger, you really don't need to go larger than about 21 mm (about 1 inch) to get a good flow through the nets. Lantern nets are extremely durable. Yes, many of the nets have been repaired several times, but unless they are crushed it has been possible to repair damaged nets with cable ties, weed whacker string and, occasionally, a piece of salvaged webbing. Sometimes it is necessary to bend a twisted wire, but repairs are possible, although sometimes labor intensive. The biggest enemies of lantern nets are too much time in the sunlight or the water, and careless handling and storage.
A good place to defoul lantern nets is the beach. Rock crabs and other intertidal scavengers will help clean the nets and exposure during low tides kills subtidal growth.