Staying safe in construction
Construction safe
Maybe it was nothing.
A worker at Chicago-based McHugh Construction Co. thought he might have spotted a problem with an outrigger on a crane pick. He was relatively new to the job. His bosses had encouraged him to speak up if he ever saw anything that seemed amiss. Still, it seemed like a bold move to stop work and call his superiors. What if he was wrong? What if it was nothing?
Then again, what if it was something?
The worker trusted his instincts. He made the call.
"Here's a young kid – and I say young because they're not old like me – but he's not afraid to say, 'Hey, stop the work, I need to make a call,'" recalls Jerry Flemming, vice president of risk management at McHugh. "He said, 'Hey, is this right?' We said, 'Whoa – no, stop! It's not right. Good call!' We were patting him on the back.
"We preach that all the time: If you see something, pick up the phone. You're not getting in trouble. We won't think less of you."
By speaking out, the worker might have prevented a significant incident. An outrigger had sunk on one side of the crane. If the crane operator had swung the load to the side with the faulty outrigger, a further failure could have caused the crane to tip over and lose its load.
McHugh offers an example of how a strong safety culture and open lines of communication empower workers to protect themselves and their colleagues. A consistent emphasis on safety is always important, but is even more so during periods when business is booming for many construction firms and many new workers are entering the fold.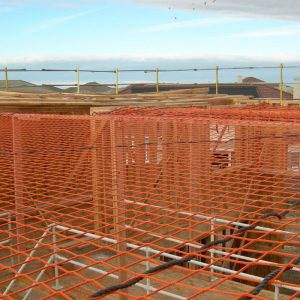 About 71 percent of construction firms expect to increase their workforce in 2016, according to a survey from the Arlington, VA-based Associated General Contractors of America. However, the majority of those firms expect to face challenges in hiring because of a shortage of qualified workers.
New or inexperienced workers may be more vulnerable, AGC of America says. Safety professionals, foremen and other construction workers will need to be vigilant in order to reverse a recent trend of increasing fatalities in construction. After decades of declines, construction worker fatalities increased 18 percent to 874 from 738 between 2011 and 2014, according to the group.
Flemming says a collaborative approach at McHugh helps reinforce safety. One professional does not "make safety happen." Instead, every worker at every level needs to be a part of the safety effort.
That is why Flemming was so happy with the new worker who spoke up. Since Flemming arrived at McHugh about four years ago, the organization has lowered its experience modification rate to 0.56 from 0.9, which has led to improved safety and lower costs.
"Good job on our guy's part," Flemming said. "It took us a good portion of the day to fix that [outrigger], but hey, good job. Most people might say, 'Oh no, you lost half a day.' No. Good job."
Proven strategies
An increase in Construction safe work creates additional scenarios in which workers could be injured or killed. But experts say a corresponding spike in injuries and fatalities does not have to be inevitable.
AGC of America recently published a comprehensive action plan – "13 Proven Steps to Improve Construction Worker Safety" – to help organizations protect their workers. A panel of judges evaluated safety programs across the nation to determine the most effective strategies for keeping workers Construction safe.